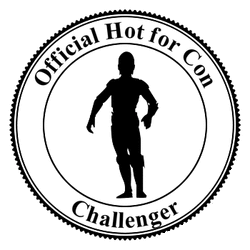 During my time away from The Blogosphere, life went on. The bloggers blogged, the trolls trolled, and the lurkers lurked. Also,
Stiver
started tearing up his blog with new entries. He had only been tending to his blog a couple of times a month, and then BAM! He became a man on a mission.
He has decided that he wants to lose his extra weight, and he wants to do it by this year's
Dragon*Con
. Now, with 90 days left on the clock, he has
issued a challenge
to his readers take up this crusade for themselves. This need not be in the form of weight loss, but maybe getting tone, or even bulking up; whatever "getting hot" means to the participant.
I promptly ignored him.
Then my health class informed me that we are doing a project based on changing our behavior in a document-able, healthy way... such as a fitness routine... so I said "Fine, universe! Have it your way! I'll start working out."
It's not a totally new thing. About a year ago I started myself on a gung-ho plan and lost 40lbs. A few months ago I lost steam, momentum, and will power. Since then I've gained 6lbs back. I don't care for that, and I'm using this as an excuse to get back on track.
Name: Adam Jones
Goal: I aim to lose 2lbs a week for the next 13 weeks.
Current Weight: 266lbs.
Goal Weight: 240lbs.
Sure, that's still pretty big, but it'll be a hell of a lot smaller. Every step counts, and yesterday was my first.
This is my before picture.
I cannot fail.
Now if you'll excuse me, I have to go climb a mountain.